Chloé Villa (クロエ・ヴェラ, Kuroe Vera?) is a character featured exclusively in Buddy Complex: Coupling in Battlefield smartphone game and manga. She is one of the Couplers of the Free Pact Alliance based in a certain neutral country.
Background
Edit
Personality
Edit
Chloé is a bright and carefree girl, and she sometimes acts mischievously.
Appearance
Edit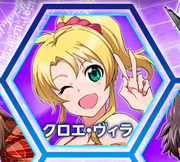 Chloé has blonde hair tied with pink scrunchy and green eyes. She usually seen wearing casual clothes or her magenta pilot attire.
Abilities
Edit
Chloé's most notable ability is to be able to perform a Coupling. So far she has coupled with Aoba Watase and Haku Ichijo.
Relationships
Edit
Ichijo Haku
Edit
She bears a striking resemblance to Ayase Eli from Love Live!.