Nestor Viktorovich Dorzhiev (ネストル・ヴィクトロヴィチ・ドルジエフ, Nesutoru Vikutorovuichi Dorujiefu ) is the captain of the Zogillian Elite Force, and he pilots his own customized Valiancer.
Personality
Edit
He is arrogant and smart. He is a good strategist as Aoba nearly fell into his trap if Dio, in Beryl Explorer had not intervened. He is angered and shocked when a simple Beryl break their formation and is able to take a shot at his special Valiancer. He admits defeat but he is determined to succeed in their next encounter. He also admits the enemy is strong and understands why Alfried Gallant failed.
Appearance
Edit
He is a man with long pink hair. He has two wavy bangs on each side.
He first appears when he is ordered to capture one of the new coupling Valiancers of the Alliance because Alfried Gallant failed. He attacks the Cygnus during the filming of a promotional video with Aoba and Fromm having coupled. He stays behind, waiting for his soldiers to bring one of the two new-type Valiancers into his firing range, using an encirclement maneuver. It almost work as Aoba was lured into it. However, just at the last moment, the Beryl Dio was piloting flew in. It smashed two of his soldiers together, losing an arm, before shooting at another to drive it out of the formation. With the formation broken, he was unable to shoot down the Luxon. He was then attacked by the Beryl which shot a part of his Valiancer's head off, much to his surprise. Bradyon, Luxon and the Beryl were able to escape afterward. He is enraged at being thwarted by a mass-produced Beryl. He leaves the battlefield but outright says he will get them next time.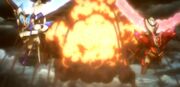 Once again in pursuit of the Cygnus and the new-type Valiancers, Dolzief goes directly into battle. This time, however, Aoba and Dio used their Coupling in order to deflect his attacks, by using the Code T2 Rise. With little effort, they were also able to shoot down most of his squadron, before inevitably cutting through Dolzief's Valiancer, killing him. While Margaret O'Keefe was shocked at his death, Alfried Gallant seemed to be amused by his death.