The
ZEH-N-110 Kugel
is a mass-produced
Valiancer
in the
Buddy Complex
anime. It is piloted by various Zogilian pilots. The Kugel was designed to combat the Confederation Army's
AG-6 Beryl
.
The Kugel is a greenish-gray Valiancer with an orange triangular eye. It is piloted by Zogilian pilots, and appears to have increased mobility on land.
Armaments
Edit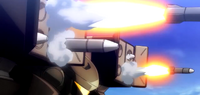 Nector Sword ST3 "Styk": Kugel wields a red-bladed sword for close quarter combat. It is held with the right arm.
Nector Knife STK3 "Zasáda": A small general-purpose knife.
Machine Gun AZ-103 "Duél": Kugel has a standard firearm for long-range combat. It is held with the left arm.
Missile Launcher: Kugel has a 4-tube missile launcher fitted onto its back.
Official Artwork
Edit
The Kugel has not appeared since Passo's was destroyed in episode 3.